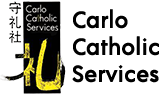 Project Information
Carlo Catholic Services runs a Roman Catholic book and media shop to promote Christian literature and religious devotion among the faithful. They also run Hai Sing Pao, a Chinese Catholic newspaper, which releases publications twice a month.
In addition to rebuilding their site, we helped the organisation take their business online by setting up an ecommerce platform on their site. We also set up a system for the Hai Sing Pao team to easily upload and display their newspaper publications and articles on the site.
The screenshots below show the display of the site in desktops and on mobile.
Website
Scope
Website Development, Adaptive Display Design
Platform